Just to fill-in the details of his most recent achievement, here's an article about Tom Daley

successfully regaining his European diving title...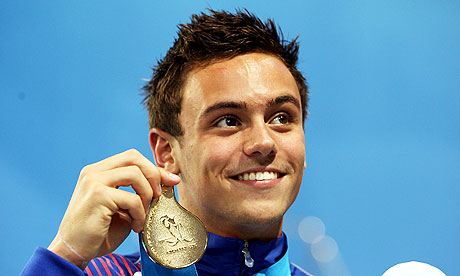 Tom Daley displays his medal after regaining the European 10-metre platform diving title in Eindhoven. Photograph: Clive Rose/Getty Images
Tom Daley
celebrated his 18th birthday last Monday (May 21) as the European 10‑metre platform champion after a dominant performance in Eindhoven on Sunday night (May 20, 2012).
Daley had blitzed his rivals in the morning's preliminary round and there was no let‑up in the final as he comfortably reclaimed the crown he first won as a 13-year-old in this same city.
Daley twice scored 10s, and could have even attracted more for his most difficult front four-and-a-half somersaults dive, on way to a personal best 565.05. Russia's Victor Minibaev was his closest challenger 49.65 points behind, in Daley's last international competition before the Olympic Games.
In qualifying, Daley had stamped his class with a near-faultless display to score 531.85, including a score of 10 on his final reverse three-and-a-half somersaults dive. Daley has delivered his London hopes a sizeable boost in the past three months, following his public criticism by the performance director, Alexei Evangulov, capped by Sunday night's display.
After Evangulov's comments he has won silver at the opening three legs of the World Series before finishing with gold, in the absence of world champion Qiu Bo, in Mexico last month. That performance was his previous best and he believes his continued improvement could be a reason for consternation amongst his Chinese rivals.
"I think they'll notice," he said. "I don't know if they'll be watching the European Championships too closely but I guess the word will spread about my score. It might say to them I'm coming up and doing it consistently to challenge them.
"I guess it will. That said while it might be good to try and intimidate them I don't think they get too intimidated!"
(Photo: @TomDaley1994)
Tom Daley, European platform champion…..and 18 tomorrow.